Hydro Force ISUP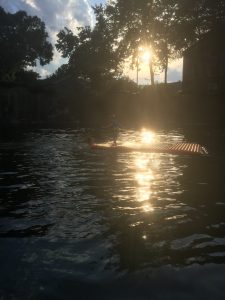 Moving to the NC (as I like to call it) has opened up a whole new world of opportunities and adventures that would normally be stuff that we would have done while on vacation. It's very strange to get used to the fact that we walk out on the balcony and we view this beautiful piece of paradise! I still catch myself saying well, once we get into the swing of regular life things will start to feel more normal… Well, the reality is that this I think is "our normal". I think it's becoming normal to just take the kids to the pool or walk out on the lake. Moving from the Cape we are still getting used to the Southern Hospitality. It's very refreshingWe recently purchased a Hydro-Force ISUP (This is an Inflatable Stand up Paddle board!) I am absolutely in love!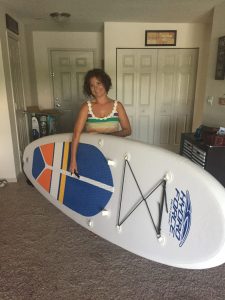 We didn't even realize that there was such a thing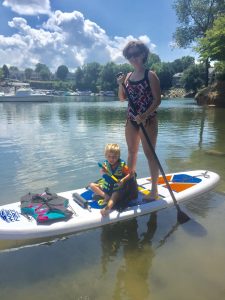 as an inflatable paddle board. I started to do some research and look at reviews and watch a ton of videos. Everything seemed to point to giving it a try. I viewed it like I want something simple that I can take Chan out on the water with me. Never having been on a paddle board I wasn't sure what to expect or how it would be, but I kept envisioning that it was going to be perfect for us to just float around on. I never dreamed in a million years that I would instantly fall in love with it!
When I am on it I don't think about it being inflatable. It feels very rigid and sturdy. I feel very confident taking Chan out with me. He can even get his balance and stand up with me. (It's the sweetest thing) Jacob has been on it with Chan as well and he enjoyed his time. Josh spent a little bit of time on it with Chan and felt like it was sturdy and felt awesome!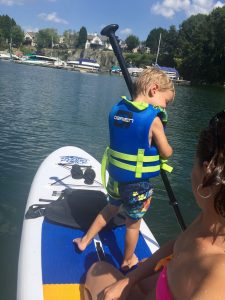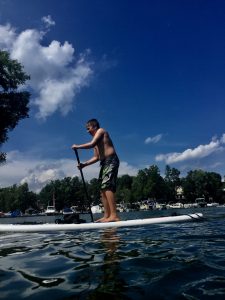 This particular board is suitable for up to 250 lbs it has an awesome seat that attaches and has a zip compartment to hold things like phone, snacks, and water. It also comes with a paddle that has a kayak attachment as well. Essentially if one wanted they could use this board as a kayak as well. This board also comes with a hand pump and an awesome back pack for easy transfer. i haven't used the back pack yet just because I can walk to the doc and put him in the water. (Jack- my paddle boards name)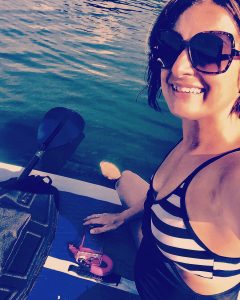 I have been on it at least once a day some times twice a day depending on the activities of the day. I have started taking him out every morning… I set my alarm for about 7 to give me some time alone before everyone else wakes up. I get ready and off I go. Each day I try something a little different. Yesterday I did squats and some different yoga poses. Today I added planking with one and one. I plan on continuing to increase the difficulty and eventually trying to do some stuff with Chan on there. It's funny because being in front of the ocean I get this feeling of absolute AMAZEMENT because what a beautiful creation. I see wonders like that and I just look up and say WOA! YOU ARE GREAT!! I never thought I would experience that kind of peace. Then we move here and driving through the mountains I am realizing that oh my goodness there is just absolute perfection everywhere! I love the most that the older I get the more I am willing to keep trying new things. I am realizing that I have so many things that I am passionate about and I feel so good about that!!
I am absolutely in love with paddle boarding and being on the water every day. I never could have dreamed it would be this awesome! If you are considering a kayak or a paddle board take some time a look into this! It really is fabulous and the best part is that you can deflate for the winter for easy storage or you can deflate and take on a trip with you. It's perfect for everyone.
I'll put a link in the comments- feel free to like and share. 🙂
Happy paddling!!
https://www.amazon.com/gp/product/B00MJNC4QE/ref=as_li_tl?ie=UTF8&camp=1789&creative=9325&creativeASIN=B00MJNC4QE&linkCode=as2&tag=secureandstro-20&linkId=bb0b40af6514b64e213df07ec0e9f9e2
About the Author
Related Posts
More From This Category