Transformation
I started T 25, 7 weeks and 2 days ago today. When I first started I was skeptical because of it only being 25 minutes a day. I had done P90X in the past along with a lot of other workout videos and regiments. i never stayed dedicated. I would normally quit around week three because I wanted results NOW! Well that's not realistic. This time I keep telling myself that even if I am not seeing a difference I am feeling way better. That 25 minutes that I spend 5 days a week working out has become my "me time" if you will. I can just focus on nothing other than the next move.
Life has been an emotional roller coaster lately. This workout is my escape. I have an amazingly supportive partner that makes sure to help me get that time. Sticking with it has been difficult because the workouts are so intense and sometimes it does seem easier to just skip a day…
I have been keeping a photo journal… I took pictures on day one week two, day one week five, and day one week. I don't know that I notice the change looking in the mirror, but looking at the pictures shows me that there is a transformation taking place. This has helped it to be a little easier to stay motivated. My favorite pair of skinny jeans fit again! They are super snug, but they do fit. I haven't been able to get them on since June. This is a fabulous feeling. I am down 6lbs.
This shows Week 2 in the pink shirt / Week 5 in the red shirt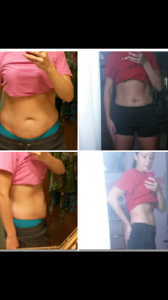 This one shows week 7 in the white shirt.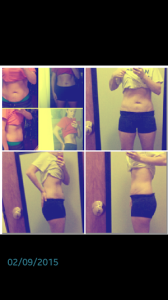 I have a ways to go, but I am impressed thus far with the transformation.
Life is what I make of it. 🙂
About the Author
Related Posts
More From This Category