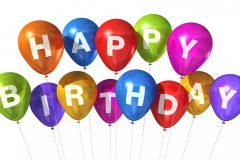 Happy Birthday Husband
Today I celebrate you! I am thankful to call you friend, partner, lover, and husband!
I love your heart! I love your sense of humor! I love your strength and patience! I love your willingness to take such huge leaps of faith with me! I love that you love our Lord! I love that our children get to call you Dad! I love your work ethic, and adventurous side! I love your face- I could legit stare at it all day! You have such sweet eyes and soft scrumptious lips! Your strong jawline makes me weak in my knees! Thank you for being you!  🙂
I pray this is the best birthday yet!
I celebrate you!
Happy Birthday Husband!
I love you!
About the Author
Related Posts
More From This Category