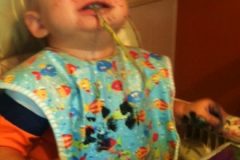 16 Months and Counting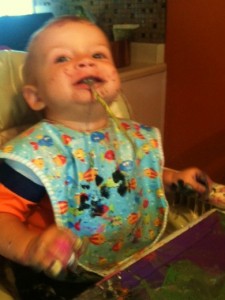 Chandler is 16 months, A typical day is crazy most of the time. Chandler stays busy with story time, and toddler time, and book buddies, or play dates that we attend at least 2 times a week. He is also a champ at helping "unfold" clothes that I have just folded! He is also fabulous at helping "unload" the dishwasher as I load it. He loves to help empty out the cabinets as I am filling them back up. Sidewalk chalk is another favorite past time. He is still trying to understand the concept that we side walk chalk the ground not the floor and everything else.
I have faith that he will figure it out eventually. He is a fabulous finger painter. He will paint for a long time if I let him. He likes to taste the colors before he applies them to the canvas (pizza box). This makes my heart happy to watch him stair at the colors and really try and figure it all out. Mac and cheese is his favorite food! He is teething and well that means he is in a lot of pain and so it's a been a lot of crying… I love all of the things that he is doing, but it is sometimes a little emotional for me… He isn't much of a napper, but he is a great sleeper at night. The last week or so he has wanted me to hold him A LOT… I know this is something I should embrace, but he is getting heavier and it's not as easy as it was to get things done. One day at a time. We are trying not to rush him because he will get to things as he is ready… He loves to read books and will bring them to me when he is ready and sit down ready to turn the pages and hear the story. Sometimes he even likes to read to me. (That is the sweetest) He is learning where his body parts are and learning what sounds animals make everyday.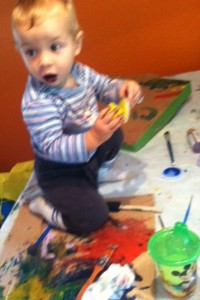 About the Author
Related Posts
More From This Category