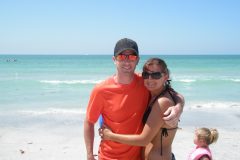 Life with a 10 week old sweet baby!
I am very much in love with life as a new Mom.  It has been an adjustment for sure. I have moments where I feel overwhelmed and I cry often, but at the end of the day I am blessed with three bundles of love.  In saying that, I am exhausted. Chandler has decided that he is not interested in taking a bottle.  We have tried many many different options.  I am flattered
that he prefers me and it does make me so happy to know that he has such a strong bond with me, but it is sad that Josh doesn't get to partake in that area.  I do keep telling myself that we will start cereal in a about a month in a half.  He will be able to experience that in full. When Chandler smiles I can't express in words what that feels like.  It's truly amazing. He loves to be held, he loves to be outside, and he loves to be center of attention all ready! This is not an exaggeration.  When he is awake he wants to be interacted with and if you are not interacting with him he will let you know in his sweet little quiet whine.
Yesterday was a little overwhelming we went to a couple of stores and pushing a cart while breastfeeding, while trying to figure out what you are buying… well it's a lot. I can do it and do it well, but that toppled with feeding every hour on the hour, then helping J with his homework while pacing the house, while trying to cook dinner. Again, I can do this and I do this well. I feel very patient, but tired. I can tell you that the house is no longer a priority and well the yard I am considering turning it into a hay field. lol 
I am pretty sure I am going to have Amazing arms very soon. It's crazy to me how a person adjusts to life so easily without even thinking about it. I often think about life prior to Chandler and it's hard to think how it was. I do remember thinking how am I going to be able to take care of this baby and most of all how am I going to divide my time between the kids… I find that this is the area that I need to work on. I am trying to make time for the other kids as much as I can, but I have noticed that helping J with homework we have to take breaks so I can change a diaper, or feed, or just keep Chandler stimulated at the same time. I don't think Jacob minds because he likes the breaks. I know taking J to football practice has changed. I remember being very involved and knowing exactly what was going on.  Now I walk a lot and focus in when I can. I don't think he minds that either because he always says, "Mom" like telling me to go away because I think he is just getting older… it breaks my heart that he doesn't let me walk him into school anymore…  Ashley started 8th grade and I feel so blessed that I get to be a part of her life.  She really is a beautiful girl inside and out.  I feel like our relationship just get's better and better everyday. She is busy with practice everyday, and everything 8th grade entails. I get super excited when she asks me for help with her homework because it's just a good feeling. I love watching her grow.  It's nice because she wants me to do her hair on occasion and that is sweet. I find myself forgetting that she is 13 and Jacob is 9. I know when I leave them home alone for a couple of hours I get palpitations and I tend to call them a couple of times. I think that I also baby them both. They don't really have chores they do help out when I ask them to, but I guess I probably just need them to need me (if that makes sense). Even though there are times when I cry because of feeling overwhelmed… It's a crazy vicious circle…
I  think the area of my life that has changed the most is my relationship with my friends.  I think that I am so blessed with such great friends. I think that I struggle with making time for phone calls and hanging out, but they are all super understanding and so that helps.
I think I most miss one on one time with Josh, but at the same time I'm not ready to leave Chandler.  I will say that my favorite time of the day is going to bed because for that few minutes of just quiet cuddling before I fall asleep is so nice… It's a reminder to me that everything that happened that day is all worth it because it lead to that moment.. I am more in love with him now than before… Even though I didn't think that was possible, but watching him with all the kids makes my heart smile, but seeing that super gentle side with Chandler is priceless. He really is an Amazing man. I am so blessed that he chooses me daily.  In saying that he gets the stale end of the deal. I find myself taking my frustrations or not really frustrations, but my feelings of being overwhelmed out on him even when he isn't here during the day.  I am working on that.
While all of this is going on… i turned 30… This was strange because normally I celebrate my birthday all month long, but this year it was like it just didn't reach the important list. However, I am blessed with such amazing people in life and they all made it so special even though I didn't make as big of a deal that I normally would. My love installed a basket on Johnny!! I am so excited! I still haven't taken him for a ride, but it will happen soon enough. He also got the new Pink CD which I have been rocking out in the car! I retired Alanis for now… it took Phil a minute before he would accept her in to the player, he doesn't like change… Duck Dynasty game and calendar So EXCITING!!! I got a new hot/cold mug! This will come in handy at games and meets! 🙂 2 bottles of wine, a new wine decor for the kitchen, a  great dinner, and a super fun laid back gathering with all my closest people. My heart was smiling. I feel good for thirty and having a baby. In the grand scheme of things I wake up a little tired every morning, but I am happy every morning! I couldn't be more blessed… sometimes I think what did I do to deserve so much good. I often find myself looking at the sky and just saying thank you. Because I know the big guy along with my Mom and Dad are looking out. 🙂
Until next time!
About the Author
Related Posts
More From This Category