Hmmm
Well, where to start… Today was one of those days! I woke up with the need to be productive, so I roll out of bed and sneak past Chandlers crib in hopes that he will stay asleep for just a little bit longer. The bigs are in the midst of finishing getting ready for the bus to arrive. I hurry out to remind them a few things such as: Don't forget to brush your teeth, don't forget that today is a normal day you are riding the bus home from school, and Jacob don't forget to give the oranges to your teacher. I venture to the kitchen and load up the dishwasher, clean out the sink, and then settle back in on the couch with "The Walking Dead" on and the kids telling me all about it… (I really have no desire to watch this show). At any rate I hear Chandler hustling down the hall blanket in his mouth and both hands on his manhood trying to let me know that the diaper is in need of being changed. I gather him up in my lap and he nestles his sweet little face in my shoulder. I could hold him for hours like this (oh wait I do hold him for hours) ahahaha  Back to the bigs they are off to the bus, Josh is up and getting around for work. Chandler is getting a diaper change and then I give him the best breakfast toaster strudel (only the best for my kids) – Don't Judge Me! He is not one to sit in a seat and eat he likes to eat at his desk that way he can take a bite and walk or dance around… (Who am I to stunt his creative juices from flowing?)
So, back to my day being productive- I move the couches out from the wall and sweep behind, then move the cushions off the couch to sweep and rearrange them (this is in hopes that they won't get worn so quick…. While this is happening Chandler is walking around with the shark vac and well he is best helper a girl could ask for… ( I mean if you like the dirt that you just swept up to be all over again. ha 🙂 Josh then reads a book to Chandler so I can get a handle on the situation… Now it's time for Dad to go to work.
Now it's just me and my helper 🙂 I am in the midst of disinfecting counter tops and Chandler is moving all of Lady's dog food into his water ( I don't realize it until it's done) apparently he is trying to help Lady. I hurry over and inform him that he is going to time out because we don't play with Lady food. As I walk him to time out he is giggling as if I am tickling him… I proceed to tell him that this is not funny and there is not a smile on my face. All he hears is wa wa wa wa wa wa…. At any rate back to get Lady more food and fresh water. As I am doing this Chandler is now dumping water all over. (he has figured out how to use the water dispenser on the fridge and so good thing I just swept the kitchen 🙂 I clean this up and then we move into the living room I change his diaper and give it to him to put in the garbage and I get back to the sweeping of the small amount of carpet… I say Chandler – What doing??  No answer… This can't be good! I head in to check and well he had gotten out a little snack bowl and proceeded to dump the entire box of Chex into his little tiny snack cup. I just shake my head and look down at his sweet face. He looks up at me with the biggest smile saying "snack mom" He was so proud of himself. (so a tear starts to run down my face and I just tell him what a great job he did and maybe next time he could say "mommy help" please. Then I side track him with the tablet and his desk so I can clean this mess up. Lady is sure to help!
Moving back to the living room Chandler spits out the Chex cereal because this is not his first choice… that means that it goes to the floor! Deep breaths, deep breaths! I pick him up and say, " do you want Mom to hold you?" He responds with a joyful Yes! So, problem solved I sweep it up and decide maybe we need to venture out of the house… Off to the Dollar tree and Target we go!
So this all took place in about 1 hour 45 minutes… 😉
We enter the store and exit the store with 30 extra items because we went there with 3 items on my list. We head over to Target and find handsome boy sunglasses!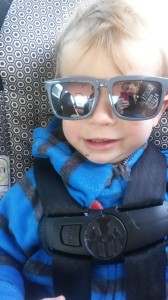 Don't worry in the midst of that he was enjoying crackers and cheese, marshmallows, grapes, and a banana. (People were looking at me funny, but hey He was starving) We head to the car and with in 4 minutes this boy is sleeping! Ba'am! Success! I think so. We get home and lay him down in his bed and it is time for Mom to get my workout on. I had time to finish workout and scrub both bathrooms. Then Handsome Boy was up and ready for some play time. So, toys and books, and blocks it was until brother and sister got home… Then it was time to prepare dinner – yes I hold him during this preparation. 😉
There were a few diaper changes, and telling him to pull up his pants, Chandler we don't play with dog food, chandler we don't dump water on the floor, Oh my gosh Chandler you are the best dancer Ever! Snacks, snacks, and more snacks…
Clean up dinner and then it is more play time- books, skateboard, blocks, throwing balls, and you know toddler fun!
Finally this sweet boy was out! Warm milk, cuddles, and he is currently visiting the mayor of snoozie town.
I can't put into words… AMAZING! He definitely makes me tired, and tests my patience but man he makes my heart super happy! As do the bigs, but they are at school during the day 😉
About the Author
Related Posts
More From This Category