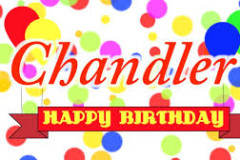 Happy Birthday Sweet Handsome boy! 3 :)
Our sweet handsome boy is 3! The time has gone crazy fast. I know that every one says that and it holds true for us all, but wow!
This boy: He is funny, very very funny! He has a mind of his own. He is very sure of what he wants when he wants it. He has great manners and pays attention to everything. He likes routine. At night before bed we work together and make coco, then he gives Dad a hug and brother and sister love after that. Once this is done we must go outside and look at the sparkly stars. He comments on the placement of the moon and how many stars are visible. Once this is complete now we have to go and look at the "months" or calendar like we call it. 🙂 He has been studying his birthday for over a month. He can point it out on the calendar along with all the other events that are written. It is pretty good.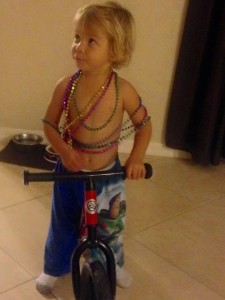 Potty training… He does great at peeing on the toilet, and we are still working on pooping. He has pooped on the toilet twice and so that is better than none at all. This is very entertaining as he squats on the toilet to get the poo out. ha He will say, "Mama, I NEED to squat!!! Can you get my dipe PEEEEEEEEEEZ?" Once he has the dipe he will squat where ever is convenient for him. He is a free pooper. 🙂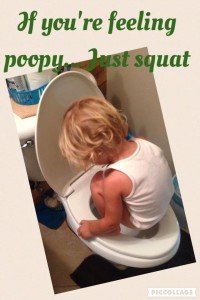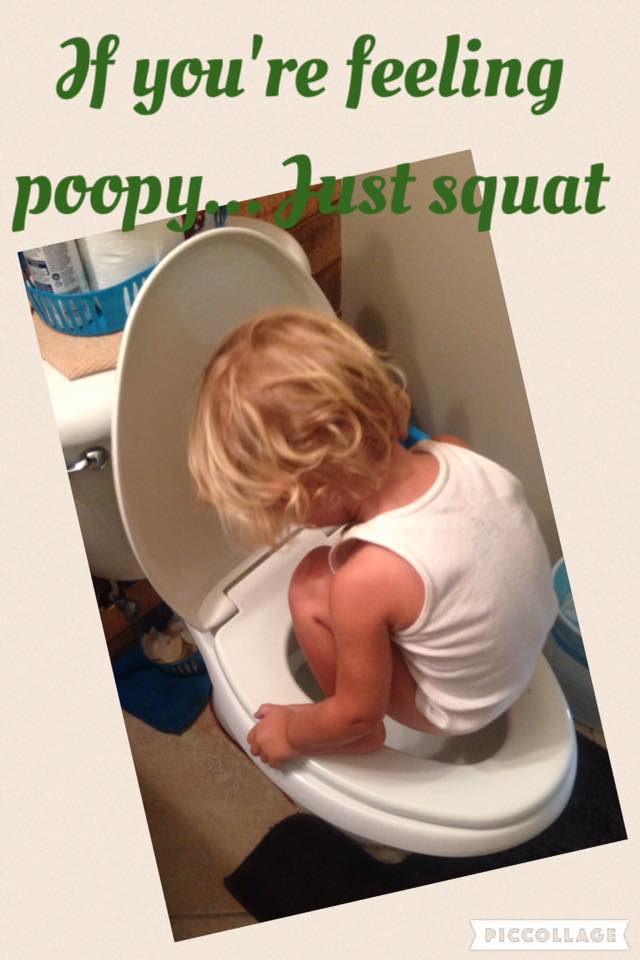 Things that he likes: TV Shows: He loves Shimmer and Shine, Paw Patrol, Mickey Mouse on occasion, and Floogals… There are a few others that he will watch…. He loves you tube! He will sit with Dad and watch Tayo or Ryans Toys or the crazy Egg lady. It's fun. We do limit screen time as with all the kids. He likes to watch an episode of something when he first wakes up and then before nap time and before bed time. We do have those days where he will say, "I just want to stay home today." Don't we all have those days??? He likes the movie cars and Minions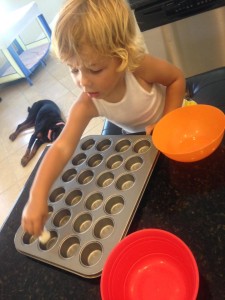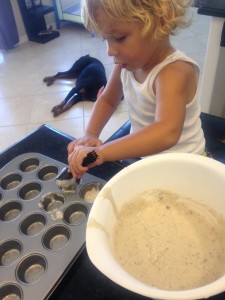 He loves to help in the kitchen. He likes to cut up fruit and help with baking mixing stuff together! He loves playdoh and paint. He likes to paint his cars and trucks or himself 🙂 Bath tub time is also a favorite! Going on bike rides. He is great at his little Strider… He has fabulous balance! He loves running in the house with Jacob and he likes to watch Ashley painting her nails. Taking Lady on walks, building forts, racing cars, coloring "he says making abstract art" hahah He likes to play games on his phone or tablet. Throwing balls, "SHOT" is what he says when he throws anything. Dance parties! He loves having dance parties! We will turn the music on in the sun room and dance our little hearts out! Playing in the hot tub and the hose.
Going to the beach this is his favorite. He loves the water and sand He is a beach boy for sure!
He likes going to Publix because they have a race car cart. He likes going to Sam's Club because we can have a "pretzel date" this is what he calls it. He also loves that Sam's Club has the samples. 🙂 Dollar tree is his favorite because we can bike there and he knows they have trucks, cars, and paint. If he falls down or hurts himself in anyway we must put an ace bandage wrap on it for it to even begin to heal. This means if his eye is hurting we must wrap the bandage around his little head for it to get better. Ha There are times he is walking around with a wrap on each leg and one of his arms. 🙂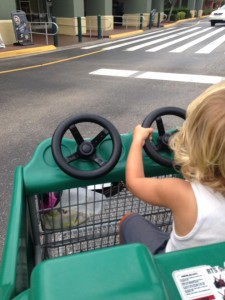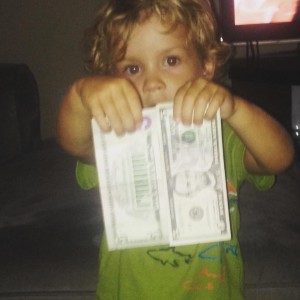 He calls dollars (Numbers) and cents (coins) He likes to swipe the card to pay for stuff as well.
As far as eating is concerned he basically lives on hot dogs, Popsicle with every meal, mac n cheese, and fruit. Oh and pretzels and pizza. Meat loaf he does like that. He's not a very diverse eater, but he is getting better. He does like oatmeal and cereal, pop tarts, bagels with flavored cream cheese. Candy the boy has a sweet tooth and he gets in from his Dad. 🙂
He is a bundle of love! He is very sweet and caring. He calls every one a friend, he waves to strangers, and smiles often, he has an attitude that is hard to handle, he may get that from me??? He is fun! He is eccentric, dramatic, hilarious, genuine, eager, full of spunk, and just a fun loving little boy. What a blessing he is. He makes our family very interesting.
Oh he did have a melt down last night before bed because we had gone to Sam's and they did not have a heart cake. I had to special order the cake from Publix, which won't be ready until this afternoon. I inform him that the cake is ordered and he starts crying because it's not going to be a pink bumpy heart cake…. Silly me I ordered a chocolate bumpy heart cake with orange writing because that's his favorite color. I had to reassure him that we will be adding pink to the cake and keeping the orange because when he thought the orange wasn't going to be there that broke his heart. He said, "oh Mama that makes my heart not happy" lol so finally he was able to get calmed down and understand that he will have a perfect birthday. 🙂 Oh and BTW ordering a "bumpy heart cake from the bakery for a 3 year old little boy was very entertaining… The guy was like say what??? How old is he again? My response… He's 3 and he has been asking for this kind of cake for like 45 days. The kid was like well ask and he shall receive. Now about the bumpy icing?? Can I make it wavy? lol Just a day in our lives.
About the Author
Related Posts
More From This Category