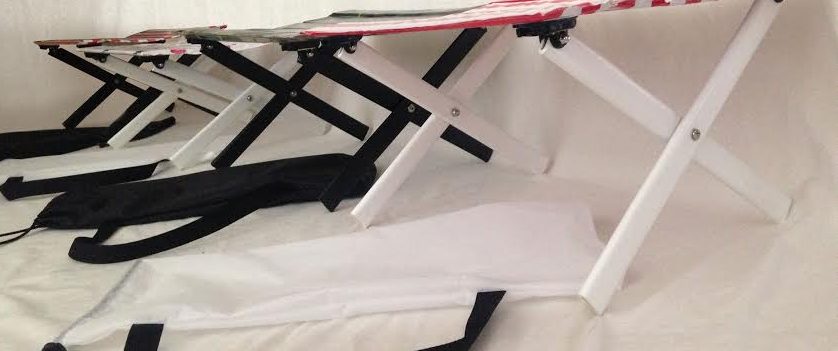 It's been almost a year since we have created "Tables4Tots" They are these cute little tables that make life a little easier. We use them all the time for everything! They are light weight collapsible and they wipe clean. In a word…. PERFECT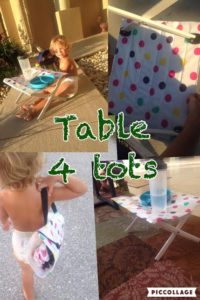 I feel as though over the past year I have changed dramatically… By dramatically I mean "dramastically" (my own made up word). I am all about saving a dollar, which is great and not that I wasn't all about that forever in my life, but I think I have learned to not be so jugy of different things. I am currently breast feeding our 9 month old son (which I never thought I would ever breast feed), but it seriously has saved us so much money and it really is so great for him. I am ready for this small stint of time to be done soon I will say that. It has been enjoyable and a super great bonding experience, however I felt just as bonded with my first son when he was a baby. So really each to there own. 🙂
We have made his food since he started eating solids and I have to say it was super easy and super cheap and super healthy! We used a lot of fresh vegetables, but now we use mostly canned goods and it really is just as healthy as fresh. The food tastes better, looks better, and costs way less than the "normal" baby food that you would buy. I did buy an expensive baby bullet and that was a waste of money. It really wasn't needed I could have used a hand held mixer or any type of blender. Every one kept saying that I "needed" the baby bullet. YOU DON"T! Ice cube trays work perfect for freezing the food and once it's frozen zip lock bags work great for storing. One ice cube equals one serving and as your baby get's older use more ice cubes. I recommend fresh bananas just mashed up, it really doesn't save any time to do it in advance. We now just use canned vegetables and cut into little bites that he can pick up. It's super easy and healthy! I just recently started purchasing canned goods at Aldi, and it is such a great money saving trip to the grocery! They are fabulous and about 49 cents per can…. as aposed to the normal 1 dollar or more per can.
Cloth diapering! We love it! It's so easy and has saved so much money! There are so many options out there and people will tell you that you need to use different systems and this brand and this soap… bla bla bla
We are 9 months in on cloth diapering and we use wipe and reuse covers. We have 12 covers and they are the wipe and reuse. I buy them on Amazon.com for about 5 dollars each. We have some "safari" brand covers, a couple "flip" covers (this was the first kind that I bought because everyone said they are the best) – They are expensive! "Bububini" is the cheapest and they work great! We also have a couple "econobun" covers. They all work equally well and have very few leaks. As far as inserts I have made my own. We bought a huge thing of 30 microfiber cloths from Sam's for about 15 dollars and I folded them in 3 (like you would a piece of paper to fit in an envelope) they are so super absorbent. Really I didn't sew them until recently before that we would just fold them and that really worked just fine too. It's a little quicker when washing and folding for them to be sewed, but not anything crazy. Oh and they are not sewed perfect. I am a beginner sewer, but I figure seriously he is going to poop and pee on these things. (they are fine) The one thing I do think you need is a medium sized "wet bag" they really do hold the smell in and it never leaks.
Around the house- buy toilet paper, laundry detergent, and fabric softener in bulk it really does save money. Also, any brand of free and clear laundry soap is great as long as it's compatible with your washer. Also, I use way less than the recommended amount of soap/softener really it's better and you don't get that build up. Clean your washer/dishwasher with vinegar instead of the expensive cleaner that they recommend. Buy coffee in bean form it's cheaper and it stays fresher longer. We have a Sam's club membership and it's worth it. Buy beef by 1/4 cow or 1/2 depending on what works for you… It's healthier because you know where the meat is coming from and and you know what is being put in it, plus it really does save money because there is no hike in pricing.You pay for it it's yours and wala. Also, buy cheese in block form and grate yourself (this will save you money and it's healthier) look at the ingredients on the back… you'll be surprised. We do not ever buy the american slices of cheese anymore they are just not healthy… I don't buy the normal kool-aide anymore we buy drink mixers they are cheaper and healthier. I think buying bottled water is overrated it's just as easy to invest in some nice bottles and add water. Plus it's more environmental. We don't pay for trash pick up… Recycle most everything and just buy big yellow bags to take our trash to the facility. This is a money saving technique. I try and look for coupons and try not to pay full price for anything if we don't have to. Going out to eat is treated as a luxury not as an everyday thing. This is huge saver and makes it way healthier. Pop is not an everyday option in our house. We tried to start a garden last year, but it was a failed attempt. This year we are going to try and start another one and hopefully it goes a little smoother.
Oh this is a good tip! Hangers- buy them at Goodwill! You can put in dishwasher to clean and they cost about a dollar for 10… Nice hangers! Also, check goodwill for picture frames! This is also a good place to look for shelves and toys! The money you save is amazing!
We have given up shampoo and conditioner (they are filled with chemicals and horrible for our hair, plus super expensive) This kids still use the normal stuff. What we do is use baking soda in the dry form about a quarter size in the palm of our hand and rub it into the scalp- then rinse… it feels a little rough in the shower, but give it time. Every 5 days or so I will us a little coconut oil and jojoba oil and rub that into the ends and massage up-rinse. It's so easy and my hair feels amazing!
I am so proud of this- I had wanted an old school bike for the longest time, but never wanted to pay a lot of money. I found an ugly rusted brown old bike for 20 dollars! Then my fabulous lover sanded it and painted it pink added a new seat and handles and it's like a brand new bike for way way way cheaper! (plus it's a one of a kind!)
Trips- We love a good adventure! We will look around and find good deals on different places and book from there. We have been to so many different places and really not spent a crazy amount of money.